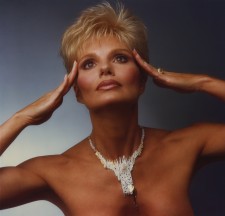 The Swiss watch was given to Burt Reynolds by Loni Anderson for the couple's first anniversary and is one of several items being offered that "represent a window into the glamour of Hollywood."
MONROVIA, Calif., April 30, 2019 (Newswire.com) - A Swiss pocket watch with a gold fob bearing an inscription from Loni Anderson to Burt Reynolds is among the rare items being offered at John Moran Auctioneers​' upcoming Fine Jewelry and Timepieces Auction, May 21.
The gold timepiece is from Loni Anderson's personal collection and is being offered for auction, along with a 10 ct. diamond line bracelet, 20 ct. fan-shaped diamond earrings and an Erté "Sophistication" brooch/necklace – all gifts from Reynolds to Anderson. Live bidding begins at 10:00 a.m. on May 21, with a preview of these and more than 250 other fine jewelry and timepiece items currently available online at www.johnmoran.com.
"It is not often anymore that the public has access to exquisite pieces like this that represent a window into the glamour of Hollywood and the emblematic lifestyle of stars like Ms. Anderson," said Mollie Burns Keith, G.J.G. Director of Jewelry, John Moran Auctioneers.
The watch was a gift by Anderson to the late Burt Reynolds on the occasion of the couple's first anniversary in 1982. "He loved timepieces of all kinds, especially pocket watches. When I came upon this special watch at Tiffany & Co., I couldn't resist purchasing it for him," stated Anderson in a letter. "I hope someone will love and cherish this beautiful treasure as much as he did."
The gold skeletonized watch is believed to be the work of master watchmaker Daniel Aubert. It includes a Tiffany 18K gold chain and a gold fob monogrammed with a "B," set in diamonds and rubies, and is engraved on the back with "B.R., Love L.A."
Burt Reynolds, who died in 2018 at the age of 82, is best known for his roles in "The Longest Yard," "Smokey and the Bandit" and "The Best Little Whorehouse in Texas." Reynolds and Anderson were together for 12 years. An actress, best-selling author, wife, mother and grandmother, Loni Anderson is best known for her groundbreaking role as the "sexy-yet-smartest-person-in-the-room receptionist" Jennifer Marlowe on the hit series "WKRP in Cincinnati," for which she received multiple Emmy and Golden Globe nominations. Never off the air, WKRP can currently be seen all across America on ME TV.
Live bidding begins at 10:00 a.m. on Tuesday, May 21, at 145 East Walnut Ave., Monrovia, California, with in-person viewing to take place at the same location from noon to 4 p.m., starting May 17 through May 20. Bidding can be done in person, by telephone or online, either through bid.johnmoran.com or via their new mobile app Moran Mobile. The iOS and Android compatible mobile app can be downloaded from the John Moran Auctioneers App page.
For full details on bidding, including absentee bidding, and to preview items online, go to www.johnmoran.com.
About John Moran Auctioneers: Celebrating 50 years, John Moran Auctioneers is a full-service auction house with an international reach. Moran Auctioneers regularly sets world auction records and is known for its specialty auctions and single-consignor legacy sales. John Moran Auctioneers is located at 145 East Walnut Ave. in Monrovia, California.
About Loni Anderson: In addition to her role in "WKRP in Cincinnati," Loni Anderson has starred in five additional television series, seven feature films, 18 television movies and two mini-series, along with scores of starring roles in television series and specials, plus a joyful and welcome return to her first love, musical theater. Her latest ventures include a comedy pilot and the second season of the hilarious series "My Sister is So Gay." With a degree in Art Education from the University of Minnesota, Loni has always been an avid art collector and supporter of up-and-coming painters and sculptors. She currently sits on the board of Winn Slavin Fine Art and is an associate curator at their Beverly Hills location. Ms. Anderson has shown a passionate lifetime commitment to raising COPD awareness with the National Lung Health Education Program. She also gives her time and commitment to The Race to Erase MS, Us Against Alzheimer's and the American Cancer Society.
Source: John Moran Auctioneers
Share: