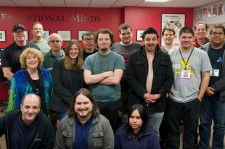 Every so often a modern Charles Dickens story comes along that truly celebrates the spirit of the giving season.
LOS ANGELES, December 24, 2019 (Newswire.com) - ​It happened the week before Christmas, when Exceptional Minds artists with autism were paid a visit by several executives from Deluxe Creative Services who had decided to surprise them with a generous holiday donation.
It couldn't have come at a better time.
What members of the Deluxe Creative team couldn't have known at the time is that the Exceptional Minds school and studio had been dealing with a funding gap. A nonprofit, Exceptional Minds depends on generous donations to provide the specialized training that its digital artists with autism require in order to succeed in visual effects, animation and other digital arts fields.
With training programs taking up resources to prepare its artists with autism for careers in the digital arts, the nonprofit lacked the additional funding needed to grow its apprenticeship program.
Until December 17. Deluxe executives arrived at the Exceptional Minds studios with the funding gap needed. It was a scene straight out of Dickens' Oliver Twist – except, of course, the benefactors are the very capable Exceptional Minds digital artists on the autism spectrum.
Members of Deluxe Creative, which delivers visual effects, post-production and 2D-3D conversion services for film, TV, advertising and immersive experiences, have been providing mentorship and support to these talented artists since Exceptional Minds opened its doors. Stereo D, a group within Deluxe Creative, has seen Exceptional Minds through many changes, from a small one-classroom startup to a school and studio serving more than 250 individuals with autism a year.
Exceptional Minds training academy opened its doors in 2011 and, in 2014, added a professional studio to bring in contract work for graduates of its three-year program. The Exceptional Minds studio has completed more than 200 projects, including for Oscar-nominated movies, Avengers: Infinity War, Black Panther, First Man, Green Book and Solo: A Star Wars Story plus notable TV shows such as Game of Thrones and The Good Doctor.
Exceptional Minds graduates are also employed by entertainment companies such as Marvel Studios and Cartoon Network.
The Exceptional Minds apprenticeship program is an important component in the nonprofit's success in preparing young adults with autism for careers in the digital arts.
Autism is the fastest-growing developmental disability in the U.S. The U.S. Department of Labor estimates that more than 84% of adults with autism are unemployed.
Source: Exceptional Minds
Share: