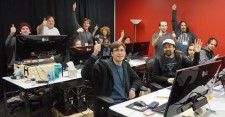 Last night's HFPA Grants Banquet is number three for Exceptional Minds, which prepares young adults with autism for visual effects jobs.
Sherman Oaks, CA, August 3, 2017 (Newswire.com) - Exceptional Minds was among the nonprofits to receive a generous grant during the Hollywood Foreign Press Association's (HFPA) annual Grants Banquet held at the Beverly Wilshire Hotel in Beverly Hills, California, last night.  
The HFPA, which annually hosts the Golden Globe Awards, presented more than $2.8 million to non-profit entertainment-related organizations such as Exceptional Minds, the industry's only school and working studio for young adults with autism pursuing careers in visual effects and related fields.
"We are grateful to an industry that has not only embraced what's unique about our artists but has supported us in every way to make sure they're successful," said Lupe Ramos-Silva, Development Director for Exceptional Minds, located in Sherman Oaks, Calif.
The $25,000 HFPA grant will assist in the upgrade of a new database and phone system, making the growing vocational school and working studio more efficient. This is the third year that the HFPA has provided funds to Exceptional Minds, which prepares young adults on the autism spectrum for careers in the visual effects and animation industries. Graduate artists have worked on well-known movies such as "War for the Planet of the Apes," "Spider-Man: Homecoming," and "Doctor Strange," to name a few.
More than 500,000 U.S. children impacted by autism will enter adulthood during this decade, with one in 68 children to follow.
For more than 25 years, the HFPA has committed nearly $30 million in grants, provided more than 1,500 scholarships and helped restore over 90 titles. The mission of the HFPA's Charitable Trust is to foster education, diversity and creative expression in art and film through a variety of programs and special grants. Through the annual Grants Banquet, the HFPA will continue to provide funds and resources to institutions and people that need it most.  This year's Grants Banquet was hosted by Chelsea Handler and was attended by Matt Bomer, Katherine Langford and Chrissy Metz among other notables.
Exceptional Minds is the only vocational school and working studio to prepare and successfully place young men and women with autism in careers in the fields of animation and visual effects.
Source: Dee McVicker
Share: