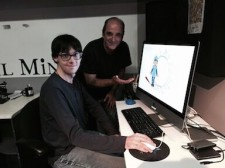 The training academy and studio dedicated to careers for individuals with autism will be honored by California State Senator Bob Hertzberg on June 5, California Nonprofits Day.
SHERMAN OAKS, Calif., May 29, 2019 (Newswire.com) - Exceptional Minds has been selected as a 2019 California Nonprofit of the Year by California State Senator Bob Hertzberg, who will honor the autism-related nonprofit during the California Nonprofits Day luncheon on June 5.
Exceptional Minds is a training academy and professional studio with a mission to prepare individuals on the autism spectrum for careers in the fields of visual effects, animation and video game rigging animation. A pioneer in autism employability, self-sufficiency and inclusion, Exceptional Minds was selected along with other nonprofits singled out by California state senators and assembly members for their economic and social impact on the state.
California Nonprofits Day is organized by the California Association of Nonprofits (CalNonprofits), a statewide membership organization that brings nonprofits together to advocate for the communities they serve. It will be held Wednesday, June 5, from 11:30 a.m. to 1 p.m. on the South Lawn of the Capitol in Sacramento, California.
"What an honor for our organization and especially for those founding parents, staff and families of Exceptional Minds who never wavered in our mission to create inclusion for people with autism. Together, we have radically transformed lives," said Jeffrey Shapiro, Executive Director at Exceptional Minds, which was founded as a training academy in 2011 by parents dedicated to changing the future of their children and other individuals with autism.
In 2014, Exceptional Minds opened a professional studio to bring in contract work for graduates of its three-year program. Since then, Exceptional Minds artists with autism have completed projects for more than 196 movies and television shows, including "Captain Marvel," "Green Book," "Star Wars: The Last Jedi," "Game of Thrones," and "Atypical." Exceptional Minds clients include Sesame Workshop, HBO, Marvel Studios, Netflix, Sony Pictures, NBCUniversal, and Warner Bros., among others. Exceptional Minds alumni are also employed by entertainment companies such as Marvel Studios and Cartoon Network.
The training academy now annually serves an average of 250 full-time, part-time and privately tutored students (as well as graduate artists), providing technical, as well as behavioral training, to a population sorely underrepresented in both the labor market and society as a whole. "We hope this recognition serves as an example to other nonprofits, certainly others who are addressing the global issue of autism but also all those nonprofits that perform so many critical roles in our state," stated Lupe Ramos-Silva, Exceptional Minds Development Director.
According to the U.S. Department of Labor, 84% of adults with autism are unemployed and many more are underemployed.
The U.S. Center for Disease Control estimates that one in 59 kids is now diagnosed with autism.
"Nonprofits are often hidden in plain sight," commented Jan Masaoka, CEO of the California Association of Nonprofits (CalNonprofits). "California Nonprofits Day is an opportunity for our elected officials to celebrate the good work they see nonprofits doing in their districts and for everyone to appreciate the collective impact of nonprofits in our communities."
According to Causes Count, a 2016 report commissioned by CalNonprofits, the nonprofit sector is the fourth largest industry in the state, employing nearly one million people. Each year, California nonprofits generate over $200 billion in revenue and bring in $40 billion in revenue from outside of California. The unpaid labor contributed by volunteers at nonprofits is equivalent to 450,000 full-time jobs every year.
Source: Exceptional Minds
Share: