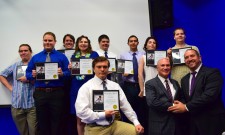 Eight young men and two young women graduated from Exceptional Minds vocational school for young adults on the autism spectrum on Sunday, the fourth such graduating class to defy the odds of a population known for its high unemployment rate and low expectations.
Sherman Oaks, CA, June 7, 2017 (Newswire.com) - While an estimated 90 percent of young people with autism are under- or unemployed, the Exceptional Minds Class of 2017 joins the alumni of young adults on the autism spectrum who are pursuing meaningful careers in the fields of visual effects and animation.
Exceptional Minds graduates — all in their 20s and on the spectrum — have gone on to work in studios such as Marvel, Stargate and Mr. Wolf, and on productions such as Game of Thrones, Guardians of the Galaxy Vol. 2, and Doctor Strange and for programmers such as Sesame Workshop.
"Your personal and professional achievements are inspiring. You've overcome obstacles others don't have ... but you also have many talents that others don't have," said Richard Goldsmith during his commencement speech Sunday. Goldsmith has worked for The Walt Disney Company, Warner Bros., The Jim Henson Company, and Univision Communications as an executive specializing in family entertainment. He offered both encouragement and advice to the graduates. Steven Asidilla, Carter Capps, Matthew De Lorimier, Annie Leffe, Liam McClure, Jacob Olsen, Madeleine Petti, Tony Saturno, Chase Shirley, and Kenny Valdivia make up the Exceptional Minds Class of 2017.
Also during the graduation, Exceptional Minds staff and students recognized a group of students with the Net Impact program at UCLA Anderson School of Management for their tireless work on a feasibility study that will determine the future location of the Exceptional Minds campus. 
For the ten graduates, Sunday marked the end of their formal training and the beginning of their professional careers in the competitive fields of animation and/or visual effects.
Following Sunday's graduation, Matthew De Lorimier will begin his career in digital animation as an intern at Cartoon Network. "Three years ago, I was at a crossroads…[now] I will be working as an intern at Cartoon Network on the show Summer Camp Island," said Matthew.
Others from the Class of 2017 will begin their careers in the Exceptional Minds Studio, which is co-located in the same building as the school to provide them with paid work experience in animation, rotoscope and cleanup, green screen keying, simple compositing, object removal, tracking mark removal, and end credit composition.
Since the studio opened almost three years ago, it has completed visual effects and end title credits for more than 50 productions for HBO, 20th Century Fox, Lionsgate, and Annapurna, as well as animation for Sesame Street.
Exceptional Minds opened its doors in 2011 with a first-year class of nine students and now has more than 30 full-time students, 38 part-time students and more than a hundred summer enrollment students. The school is a nonprofit organization funded privately through tuition, foundations and grants. Preceding graduation on Sunday, the school and its students awarded Adobe Vice President of Sustainability and Social Impact Holly Campbell with the Exceptional Hero Award. "Adobe is truly our hero. They've been with us from the beginning, offering software and support, without which we wouldn't be here," commented Yudi Bennett, co-founder of Exceptional Minds.
The graduates completed Exceptional Minds' comprehensive three-year program with professional certifications in the key software applications used for visual effects and animation work, including rotoscope and cleanup, green screen keying, simple compositing, object removal, tracking mark removal, end title credits, and character animation.
More than a half million individuals with autism will enter adulthood in the next decade, the vast majority of whom are ill-prepared for meaningful employment. Exceptional Minds is the first and only school of its kind to prepare young people with autism for careers in visual effects, providing well-rounded instruction in soft skills and technical skills as well as job placement and work environment preparedness.
Source: Exceptional Minds
Share: