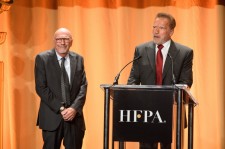 The nonprofit school and studio for individuals with autism was awarded a grant during the HFPA's annual Grants Banquet, one of Hollywood's biggest charitable events of the year.
SHERMAN OAKS, Calif., August 6, 2019 (Newswire.com) - Exceptional Minds, recognized as a 2019 California Nonprofit of the Year, was among 74 nonprofit grant recipients during the Hollywood Foreign Press Association's (HFPA) Grants Banquet at Beverly Wilshire in Beverly Hills, California.
The HFPA, which hosts the annual Golden Globe® Awards, presented $3.8 million to entertainment-related nonprofit organizations, academic programs, and humanitarian efforts on July 31. This year's HFPA grant was number five for Exceptional Minds, a professional training academy and studio for individuals with autism pursuing careers in visual effects and animation.
The $25,000 HFPA grant will aid in Exceptional Minds' training and support programs, now annually serving an average of 250 full-time, part-time, and privately tutored students as well as graduate artists, providing job training and placement to a population sorely underrepresented in both the labor market and society as a whole.
According to the U.S. Department of Labor, 84% of adults with autism are unemployed. Those who are working often make less than minimum wage.
Exceptional Minds started the training academy in 2011 and, in 2014, opened a professional studio to bring in contract work for graduates of its three-year program. Since then, Exceptional Minds artists with autism have completed animation projects for organizations such as Sesame Street and visual effects projects for movies and television shows, including recent blockbuster Avengers: Endgame and Oscar-nominated movies Avengers: Infinity War, Black Panther, First Man, Green Book and Solo: A Star Wars Story as well as for notable TV shows such as Game of Thrones and The Good Doctor.
Graduates of the Exceptional Minds three-year core job training program have gone on to work at Cartoon Network, Warner Bros., and Marvel Studios, among other companies.
"We couldn't provide the training to our students and graduates without the industry's support and our friends at HFPA. We are so grateful for their interest and their generous support," said Lupe Ramos-Silva, Development Director for Exceptional Minds, located in Sherman Oaks, California.
Over the last 25 years, the HFPA has donated $37.5 million to entertainment-related nonprofit organizations, academic programs, and humanitarian organizations; provided more than 1,500 scholarships to college students; and funded the restoration of over 125 classic films. In addition to Exceptional Minds, the HFPA awarded grants to organizations including the Committee to Protect Journalists, Get Lit, and more during its annual Grants Banquet, hosted by Arnold Schwarzenegger with Once Upon a Time in Hollywood's Julia Butters, The Lion King's Jon Favreau, Judy's Renee Zellweger and Rocketman's Taron Egerton among the evening's presenters.
Exceptional Minds is a school and professional studio that prepares individuals with autism for careers in animation and visual effects, a unique nonprofit organization now serving a population that is underrepresented in the workforce.
Source: Exceptional Minds
Share: