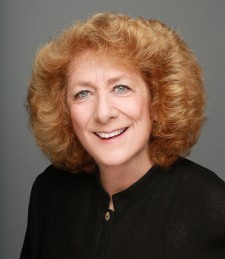 Susan Zwerman recognized for her mentorship role as the Studio Executive Producer for Exceptional Minds school and studio for young adults on the autism spectrum.
SHERMAN OAKS, Calif. , November 15, 2018 (Newswire.com) - ​Exceptional Minds Studio Executive Producer Susan Zwerman was among the industry leaders honored at last week's Exceptional Women in Production & Post event held at the Taglyan Complex, Los Angeles.
The event was sponsored by Studio Daily in honor of the post-production industry's most prominent visionaries and role models.
Zwerman shared the spotlight with Industrial Light & Magic's (Lucasfilm) Jennifer Zeidan and Marvel Studios' Victoria Alonso, among others, and was lauded for her contributions as one of the industry's more notable visual effects producers. "It's an honor to stand here today with these women, each of whom have made a lasting mark on the industry – which is an incredible achievement given the highly competitive, technical nature of our industry," said Zwerman, who is a co-author of the seminal book on producing visual effects, The Visual Effects Producer: Understanding the Art and Business of VFX, and the recipient of the 2013 Frank Capra Achievement Award.
Exceptional Minds is a nonprofit school and working studio for young adults on the autism spectrum who are pursuing careers in digital animation and visual effects.  Zwerman is the founding Executive Producer and job developer for Exceptional Minds studio, where she mentors and manages artists on the autism spectrum. Under her mentorship, Exceptional Minds artists have gone on to work for Marvel Studios and Cartoon Network. The artists have completed vfx work for Black Panther (2018), Avengers: Infinity War (2018), Ant-Man and the Wasp (2018), Jurassic World (2018), Star Wars: The Last Jedi (2017), Thor: Ragnarok (2017), Spider-Man: Homecoming (2017), and X-Men: Apocalypse (2016). Exceptional Minds vfx artists have also completed the end title scroll for Guardians of the Galaxy Vol. 2 (2017), Doctor Strange (2016), and Captain America: Civil War (2016) to name a few.
"StudioDaily's Exceptional Women in Production & Post recognizes outstanding achievements by women working across the media industry," said Bryant Frazer, editorial director and associate publisher, StudioDaily. "As much as it's a snapshot of excellence in the business today, it also offers a glimpse of the future, as new generations of women who see themselves represented in our industry are motivated to pursue a career in media. We're pleased and humbled to honor these truly inspiring women."
In addition to the above, Zwerman's credit has appeared on a succession of high-profile motion pictures which include Broken Arrow, Alien Resurrection, Men of Honor, Around the World in 80 Days, and The Guardian. She is a member of the Academy of Motion Picture Arts & Sciences, the Directors Guild of America, the Producers Guild of America, and the Visual Effects Society.
Source: Exceptional Minds
Share: