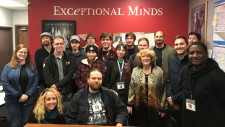 Even as an estimated 90 percent of the autism population continues to be underemployed, a few young professionals with autism are finding success doing visual effects for the movie industry.
SHERMAN OAKS, Calif., June 5, 2018 (Newswire.com) - The force is once again with the Exceptional Minds Studio of visual effects professionals on the autism spectrum, which added "Solo: A Star Wars Story" to its list of movie credits.
This is the second Star Wars movie for Exceptional Minds. In addition to "Solo: A Star Wars Story," Exceptional Minds was one of several studios that worked with Industrial Light & Magic (ILM) on visual effects for "Star Wars: The Last Jedi" released in December. "It doesn't get much more exciting than Star Wars. You'd think we'd be used to it after doing the first one, but it never gets old. These young artists have worked hard, and they've proven themselves in a very competitive industry. They're an inspiration," said Exceptional Minds Studio Executive Producer Susan Zwerman.
An estimated 90 percent of the autism population is under- or unemployed, and few training programs exist to prepare young adults with autism for meaningful careers.
Exceptional Minds Studio opened its doors almost four years ago. All artists are graduates of Exceptional Minds, the first nonprofit vocational school of its kind to prepare young men and women on the autism spectrum for careers in visual effects and animation.
Since it opened, Exceptional Minds Studio has done rotoscoping, tracker marker removal, split screen, green screen keying, and compositing, as well as end title credit work and animation for more than 50 major motion pictures and/or television series. The list includes animation for Sesame Street and visual effects for "Avengers: Infinity War," "Black Panther," and "The Good Doctor."
For "Solo: A Star Wars Story," the artists at Exceptional Minds Studio were contracted to do VFX cleanup on several shots that involved detailed rotoscope and paintwork. "This is very challenging work. Each shot is like a puzzle and these guys just love that challenge of trying to figure out the best way to approach a shot. They don't give up, they're kind of obsessive about it," said Zwerman.
"It feels rewarding, that my hard work paid off," agreed Tony Saturno, one of the Exceptional Minds artists who worked on this latest Star Wars movie. Tony, along with Nicolas Arredondo, Andrew Dugan, Lloyd Hackl, Eli Katz, Annie Leffe, and Mason Taylor, completed cleanup on 56 shots for "Solo: A Star Wars Story" -- more than double the 20 shots Exceptional Minds Studio completed for "Star Wars: The Last Jedi." In addition, Studio Executive Producer Susan Zwerman, Studio Coordinator Jennifer Giandalone, and visual effects supervisors Immanuel Morris, Kenneth Au, Megan Flood and Josh Dagg provided their expertise and supervision on the project.
Source: Exceptional Minds
Share: